BELLATOR'S FEB. 4 CARD ON CBS LIVE FROM THE KIA FORUM ADDS FOUR FRESH FIGHTS
BELLATOR MMA'S GROUNDBREAKING CBS DEBUT EVENT LIVE FROM THE KIA FORUM ON FEB. 4 IS NOW FINALIZED WITH ADDITION OF FOUR MARQUEE PRELIMINARY MATCHUPS, INCLUDING NO. 5 HEAVYWEIGHT STEVE MOWRY FACING FORMER OLYMPIAN ALI ISAEV
FORMER TITLE CHALLENGER LORENZ LARKIN TO FACE MUKHAMED BERKHAMOV WHILE FORMER CHAMPION DARRION CALDWELL BATTLES NIKITA MIKHAILOV IN STELLAR BANTAMWEIGHT BOOKING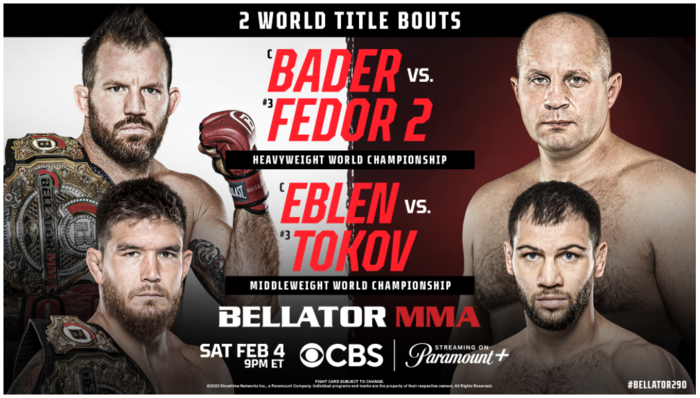 Los Angeles — The preliminary card for BELLATOR MMA's historic CBS Network Television debut on Saturday, February 4 has been finalized with the addition of four compelling matchups, which include two ranked contenders, an Olympian's promotional debut, and a former BELLATOR champion.
In a consequential heavyweight matchup, No. 5-ranked "Tall" Steve Mowry (10-0, 1 NC) will welcome former 2008 men's freestyle Olympian Ali Isaev (9-0) to the BELLATOR cage, while No. 8-ranked middleweight Lorenz "The Monsoon" Larkin (24-7, 2 NC) rematches Russia's Mukhamed "Cherkes" Berkhamov (15-1, 1 NC) at welterweight following their July no contest. Former BELLATOR Bantamweight Champion Darrion "The Wolf" Caldwell (14-6, 1 NC) will clash with Russia's Nikita Mikhailov (9-2), and a featherweight tilt between Jackson Wink's Isaiah "The Central Valley Gangster" Hokit (2-1) and Peter "Wasabi" Ishiguro (2-1) completes the preliminary lineup.
BELLATOR 290: Bader vs. Fedor 2 takes place at the KIA FORUM in Inglewood, Calif. and will air LIVE on CBS at 9 p.m. ET / 6 p.m. PT, while the preliminary portion of the event will air on the BELLATOR MMA YouTube channel, the SHOWTIME Sports YouTube channel, and Pluto TV beginning at 6 p.m. ET / 3 p.m. PT. Tickets for the event are currently on sale at both Ticketmaster.com and Bellator.com.
Aptly nicknamed "Tall" Steve Mowry, the six-foot-eight finisher most recently fought to a no contest against former interim BELLATOR Heavyweight Champion Valentin Moldavsky in August. The result snapped a ten-fight winning — and finishing — streak for the No. 5-ranked heavyweight contender, though he remains unbeaten as a professional since signing with BELLATOR in 2018. The 30-year-old Kill Cliff FC product is eager to return to his winning ways this February when he meets Ali Isaev in a clash of undefeated heavyweights. Mowry will look to leverage his dangerous striking and potent submission skills to give Isaev a warm welcome to BELLATOR's heavyweight division on a night when their divisional title is up for grabs in the event's headliner.
Ali Isaev is no stranger to the brightest lights in combat sports, having competed as part of the 2008 Summer Olympics in Beijing, China. A former champion at PFL, Isaev brings his undefeated record with him to BELLATOR 290 as he looks to make a strong first impression on BELLATOR fans and the heavyweight division. The decorated wrestler has not competed since 2019, but a win over a fighter the likes of Mowry is as good as any to begin his ascent up the divisional ladder. The 39-year-old will look to prove he belongs with the best as he takes on the No. 5-ranked contender in his promotional debut this February 4 in Inglewood.
Unbeaten since 2018, No. 8-ranked middleweight Lorenz Larkin saw his return to the welterweight division this past July spoiled when he and Mukhamed Berkhamov fought to a no contest at BELLATOR 283. Riverside's Larkin looked impressive in his prior six outings, which saw him go 6-0 with an emphatic knockout of Kyle Stewart as a fitting exclamation point to the successful run. At BELLATOR 290, the 36-year-old Larkin will look to find closure against Berkhamov and kick off this second foray at 170-pounds in dominant fashion with a highlight-reel victory on the lead-in to the BELLATOR on CBS debut.
While Larkin saw his six-fight winning streak snapped with the no contest, Mukhamed Berkhamov's stretch of 12 straight victories came to an end at BELLATOR 283, as well. The former ACB Welterweight Champion is a decorated finisher with nine submissions and two knockouts to his name, one submission of which came at the hands of now-No. 10-ranked Jaleel Willis in Berkhamov's BELLATOR debut. The Russian 28-year-old's extensive résumé includes wins over Willis, Tofiq Musayev, Jesse Taylor, and Brett Cooper, but Berkhamov hopes BELLATOR 290 will see him add Lorenz Larkin's name to that list as he hopes to break into the crowded welterweight rankings this February.
Former BELLATOR Bantamweight Champion Darrion Caldwell has had a tumultuous time inside the BELLATOR cage since 2020, but the 35-year-old New Jersey native hopes he can turn all that around on February 4 against Nikita Mikhailov. Caldwell won the BELLATOR title in 2017 with a unanimous decision victory over Eduardo "Dudu" Dantas, which he followed up with a dominant first-round guillotine choke of Leandro Higo for his first title defense. He also holds wins over dangerous featherweights Adam Borics, Henry Corrales, and Noad Lahat, a testament to his veritable world-class status and ability to hold his own a weight class above his natural division. At BELLATOR 290, Caldwell will look to return to the win column against Mikhailov and reassert his status as one of the best bantamweights in BELLATOR's elite 135-pound division.
Opposite Caldwell, Nikita Mikhailov is eager to show that even at just 24 years old, his time is now in the talent-rich BELLATOR bantamweight division. The Russian striker is an impressive 2-1 in BELLATOR so far, a run that includes a victory over fan-favorite Brian Moore. Mikhailov earned his stripes on the Russian regional scene and has looked every bit the part of a future contender since joining BELLATOR in 2021, even matching up with eventual BELLATOR Bantamweight World Grand Prix entrant Enrique Barzola in his last outing. Mikhailov will look to add the biggest win of his career to his résumé against Caldwell on BELLATOR 290 with an eye on entering the upper echelon of the division this February.
# # #
BELLATOR 290: BADER VS. FEDOR 2 MAIN CARD:
CBS and Paramount +
Saturday, Feb. 4, 2023 — 9 p.m. ET/6 p.m. PT
Heavyweight World Title Main Event: #C-Ryan Bader (30-7, 1 NC) vs. #3-Fedor Emelianenko (40-6, 1 NC)
Middleweight World Title Co-Main Event: #C-Johnny Eblen (12-0) vs. #3-Anatoly Tokov (31-3)
Welterweight Bout: #8-Sabah Homasi (17-10) vs. Brennan Ward (16-6)
BELLATOR 290: BADER VS. FEDOR 2 PRELIMINARY CARD:
BELLATOR MMA YouTube Channel | Pluto TV
6 p.m. ET/3 p.m. PT
Welterweight Bout: #7-Neiman Gracie (11-4) vs. Michael Lombardo (13-3, 1 NC)
Welterweight Bout: #8-Lorenz Larkin (24-7, 2 NC) vs. Mukhamed Berkhamov (15-1, 1 NC)
Featherweight Bout: Henry Corrales (20-6) vs. Akhmed Magomedov (10-0, 1 NC)
Heavyweight Bout: #5-Steve Mowry (10-0, 1 NC) vs. Ali Isaev (9-0)
Lightweight Bout: Chris Gonzalez (7-2) vs. Max Rohskopf (7-1)
Light Heavyweight Bout: #6-Grant Neal (7-1) vs. #9-Karl Albrektsson (13-4)
Flyweight Bout: Alejandra Lara (9-6) vs. Diana Avsaragova (5-0)
Bantamweight Bout: Darrion Caldwell (14-6) vs. Nikita Mikhailov (9-2)
Bantamweight Bout: Jaylon Bates (6-0) vs. Jornel Lugo (8-1)
Featherweight Bout: Isaiah Hokit (2-1) vs. Peter Ishiguro (2-1)
Welterweight Bout: Ethan Hughes (3-0) vs. Yusuf Karakaya (1-0)