͏‌ ͏‌ ͏‌ ͏‌ ͏‌ ͏‌ ͏‌ ͏‌ ͏‌ ͏‌ ͏‌ ͏‌ ͏‌ ͏‌ ͏‌ ͏‌ ͏‌ ͏‌ ͏‌ ͏‌ ͏‌ ͏‌ ͏‌ ͏‌ ͏‌ ͏‌ ͏‌ ͏‌ ͏‌ ͏‌ ͏‌ ͏‌ ͏‌ ͏‌ ͏‌ ͏‌ ͏‌ ͏‌ ͏‌  ͏‌ ͏‌ ͏‌ ͏‌ ͏‌ ͏‌ ͏‌ ͏‌ ͏‌ ͏‌ ͏‌ ͏‌ ͏‌ ͏‌ ͏‌ ͏‌ ͏‌ ͏‌ ͏‌ ͏‌ ͏‌ ͏‌ ͏‌ ͏‌ ͏‌ ͏‌ ͏‌ ͏‌ ͏‌ ͏‌ ͏‌ ͏‌ ͏‌ ͏‌ ͏‌ ͏‌
Having trouble viewing this email? Click here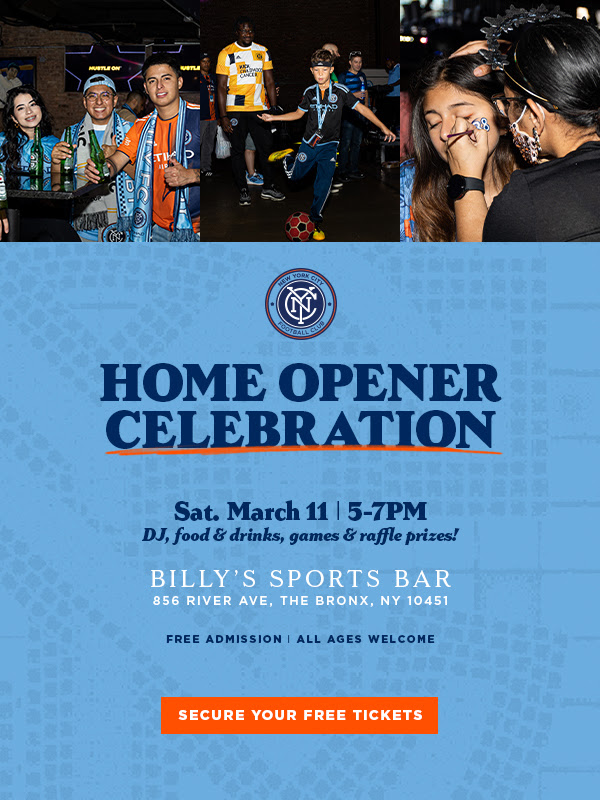 Come join us pre-match to celebrate NYCFC's home opener! We'll be celebrating from 5-7 PM at Billy's Sports Bar. Enjoy music, food & drinks, games, and prizes with our host Kwame King.

Event is free and open to all ages. Fans can enjoy temporary tattoos, face painting, a raffle with prizes, and soccer darts and skills challenges. City Members will be able to pick up their annual season ticket holder gift upstairs at Billy's.

We can't wait to see you there!

If you don't have tickets to the home opener – secure yours now!