Public Works Announces «Imagine a Day Without Water» Video Contest Winners
Houston Public Works Congratulates Winners of
«Imagine a Day Without Water»
Video Contest
HOUSTON – Houston Public Works has announced the winners of the «Imagine a Day Without Water» video contest. The contest encouraged the community to create short videos to raise awareness about the value of water by recognizing what daily life would be like without it. Imagine a Day Without Water urges for stronger investments to ensure water is available for the future.

Three winners received cash prizes and recognition by the City and Mayor Sylvester Turner. The winners were recognized by City Council December 14.
FIRST PLACE – Eleazar Gray won first place and a prize of $300 for her video, «The Cold,» depicting what life was like during the February freeze. The video highlighted the importance of water in everyday life and why it should not be taken for granted. Their video was shared to Houston Public Works social media pages and will be shown during the Citizens Environmental Council 2021 Wild About Houston Green Film Festival.
Eleazar Gray's «The Cold»
SECOND PLACE – 15-year-old Harper Corona from Timbergrove took home second place and a $200 prize for the video, «A Day Without Water.» The video showed a day in the life without water to shower, go to the bathroom, water the yard, and stay hydrated. Pets wouldn't survive without drinking water.
Harper Corona's «A Day Without Water»
THIRD PLACE – The Tripathi brothers, 8-year-old Prometheus, and 5-year-old Prithak, won third place and a prize of $100 for their video, «A Day Without Water In The Tripathi Family.» The brothers depicted how they couldn't brush their teeth, go to the bathroom or bathe without water. Firefighters wouldn't be able to put out fires without water.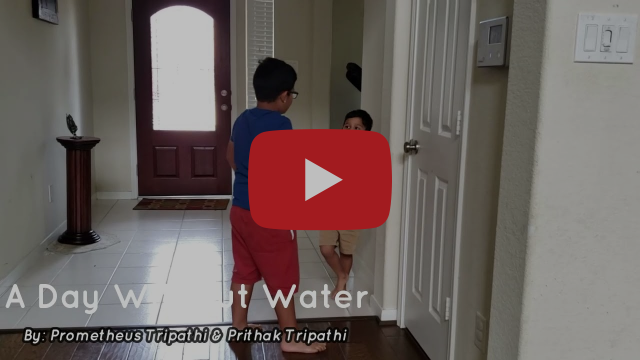 Prometheus & Prithak Tripathi in «A Day Without Water»
«Water is essential to human life and Houston relies on water to thrive. Every time the community takes action to conserve water, they are lowering the cost of water bills and helping the City maintain affordable water rates, » said Houston Public Works Director Carol Haddock. «I applaud the messages delivered in each of these videos. Even small steps to reduce water intake can ensure water is available for future generations.»

Houston Public Works encourages the community to participate in the Winter Sprinkler Shutoff Initiative. It encourages homeowners and businesses to turn off their automatic sprinklers from November to February, when yard grasses are dormant. This action will save water and reduce the cost of your water bill.