The City of Houston Celebrates Juneteenth as a Federal Holiday
The City of Houston Celebrates Juneteenth as a Federal Holiday
Dear Houstonians,

City of Houston departments are closed today, Monday, June 20,  in observance of Juneteenth, a day commemorating June 19, 1865, when federal troops arrived in Galveston, Texas and announced that enslaved African Americans were free — more than two years after the Emancipation Proclamation was signed.

Two years ago, President Biden signed legislation making Juneteenth a federal holiday, which we are celebrating today.

Over the weekend, people around the country celebrated freedom and honored the resilience of our ancestors. Here in Houston, I hosted my ninth annual parade in Acres Homes with marching bands, community groups and many more participants.

Miller Outdoor Theater hosted a «Journey to Freedom,» and honored late Rep. Al Edwards, the «Father of Juneteenth.» Rep. Edwards passed legislation making Juneteenth a holiday in Texas and worked tirelessly to encourage other states to pass similar legislation, which paved the way to a national holiday. You can read more about Edwards in this Ebony Magazine article: America's Father of Juneteenth and the Start of the March Towards a National Holiday.
The Edwards family attended the celebration. The event also honored U.S. Rep. Sheila Jackson Lee and U.S. Senator John Cornyn for their bipartisan work to pass legislation to recognize Juneteenth as a federal holiday.

OTHER CITY NEWS
Recently, the New York Times highlighted our work to decrease the homeless population over the last several years by providing individuals with permanent housing solutions and wraparound services. How Houston Moved 25,000 People From the Streets Into Homes of Their Own.
Here is an excerpt:
During the last decade, Houston, the nation's fourth most populous city, has moved more than 25,000 homeless people directly into apartments and houses. The overwhelming majority of them have remained housed after two years. The number of people deemed homeless in the Houston region has been cut by 63 percent since 2011, according to the latest numbers from local officials. Even judging by the more modest metrics registered in a 2020 federal report, Houston did more than twice as well as the rest of the country at reducing homelessness over the previous decade. Ten years ago, homeless veterans, one of the categories that the federal government tracks, waited 720 days and had to navigate 76 bureaucratic steps to get from the street into permanent housing with support from social service counselors. Today, a streamlined process means the wait for housing is 32 days.
As the article mentions, the City, nonprofit partners, businesses, and faith-based institutions have reduced homelessness in the City by about 63 percent. My goal is to reduce the number of chronic homelessness to zero.   As I told KHOU – TV in this story, Houston has made tremendous progress, but there's still more work to do.


Last week, FIFA selected Houston as a host city for the World Cup 2026, the world's largest sporting event. That is great news for soccer fans and everyone in our community.
The announcement affirms who we are as a City. We all know Houston is a great city, but for FIFA to acknowledge the greatness of this city by saying we will host some of those games is just incredible. I thank the Houston – Harris County Sports Authority, World Cup Bid Committee, and other partners who made this dream to host global soccer fans a reality in 2026.
TAX BREAK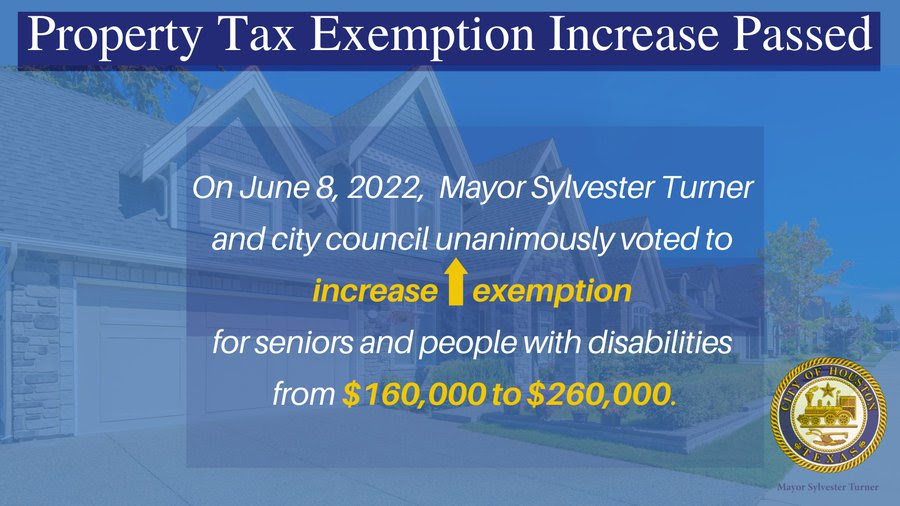 Earlier this month, the city council voted to increase the property tax exemption amount for Houstonians with disabilities and seniors aged 65 or older from $160,000 to $260,000. The increase will go into effect for tax bills that go out in October.
Based on our calculations, the exemption allows a 65-year-old homeowner with a home valued at $300,000 to exempt $260,000, paying city taxes only on the remaining $40,000. The ordinance will help keep the City affordable, and the tax exemption will help seniors and individuals with disabilities as the property value rises.
HIRE HOUSTON YOUTH


On June 13, I welcome hundreds of summer interns to Houston City Hall.
This summer, thousands of interns enrolled in my signature Hire Houston Youth employment program are working in various public, private, and philanthropic jobs where they will spend the summer «earning and learning.»
In April 2016, I launched the program through the Mayor's Office of Education to connect young people ages 16 – 24 to eight-week paid local jobs and internships where they will gain valuable work experience, develop leadership skills, and build social capital. I want to prepare young people for a future filled with opportunity and success in Houston's dynamic economy.
I wish everyone a happy and healthy summer. If you have any questions about services provided by the City, you can call your district council member or 3-1-1.